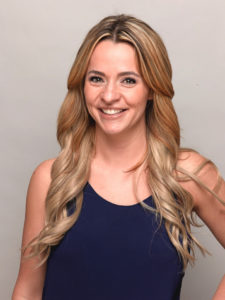 *Follow Lara Slater Salons on Facebook
*Follow Lara SlaterSalons on Instagram @devacurl_expert_az
Links to Reviews
*Trained in Deva Curl, I work with all hair types and love curly girls! All ages, genders, and hair textures!
*In 2016 I became an educator for Deva Curl and teach other stylists the Deva Curl Dry Cut and Deva Curl Transformation Service.
Before I found my love of hair, I graduated with a double major in Broadcasting and Interpersonal Communications from Southern Utah University.
Having a background in Interpersonal communications has set me apart from other stylists. I know the right words, how to listen, and how to explain myself to get exactly what it is your looking for in a hairstyle and color.
I became a stylist in 2008 and have been in love ever since! Hair instantly became my medium. I can see how an individuals hair will respond to color and a cut and I know what it takes to get it to the desired end result.
Every head of hair is different! The same color and cut will look completely different on 2 people. So color and cutting isn't a one formula fits all. Each and evertime a client comes to me I take the time to formulate for their hair color, texture, face shape, and skin tone.
In 2009, I started working in a salon in St. Louis, Missouri. It was a very busy, fast paced, and high end salon. While there I learned the Deva Curl method. I was trained on the art of curly hair. Curly hair requires different cutting, coloring, and styling methods then straight hair. Using the Deva Curl method and products, I can help show you what your curls are capable of!
I moved to Tucson, AZ in 2011. Although I loved my time in a Salon I wanted to do hair the right way and not just skip steps or cut corners to make a profit. I want my work to speak for itself. I opened a by appointment only salon called, You Look Gorgeous salon by Lara and quickly gained a large client base simply on referrals.
I moved to Scottsdale, AZ the summer of 2015. I changed my salon name from You Look Gorgeous salon by Lara to
LARA SLATER SALONS and opened up a single person salon. I am so excited to work in the Scottsdale area and bring my knowledge and individual based approach to my clients, current and new!